Airport Information
Runway Information
Runway 9-27 Runway Length (feet) | 6,100 Runway Width (feet) | 75 Runway Surface Material | Asphalt | Grooved Runway Load Bearing Strength (pounds) | 30,000 SWL/60,000 DWL
Airfield Lighting
Identification | Rotating Beacon Runway 9/27 | Low/Medium/High Intensity Taxiway A | Medium Intensity Taxiway B and C | Reflectors Taxiway D | Medium Intensity Approach | Precision Approach Path Indicators (PAPI)
(RWY 9 and 27) Runway End | Threshold and Runway End Identifier Lights
(REIL) (RWY 9 and 27)
Pavement Markings
Runway | Visual, Holding Position Markings
Navigational Aids
RNAV GPS-A l Mustang VOR (FMG)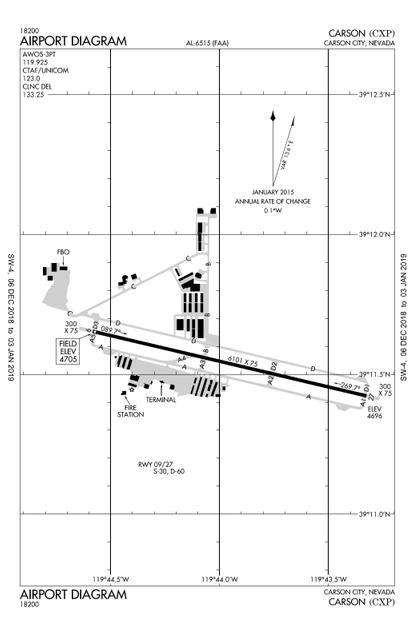 Taxiways
Taxiway A and D are full-length parallel taxiways providing access to both ends of Runway 9-27. Taxiway A and D are 50 feet wide and located 300 feet from the Runway 9-27 center line. Five entrance/exit taxiways connect Taxiway A and Runway 9-27. A high speed taxiway(Alpha 4) exits to Taxiway A and the South Ramp.
Taxiway B is a north-south oriented taxiway extending between Runway 9-27 and a series of hangars to the north. Taxiway C, oriented in a northwest-southeast direction, extends between the Runway 9 threshold and Taxiway B.
Aircraft Parking Aprons
There are two primary aircraft parking aprons at Carson City Airport. The main apron area is located south of Runway 9-27. This apron is constructed of asphalt and encompasses approximately 65,200 square yards. Approximately 142 marked tie-down positions are located on this apron.
A north apron area is located northwest of the Runway 9 threshold. This apron is constructed of asphalt and encompasses approximately 44,000 square yards. There are approximately 48 marked aircraft tie-down positions on this apron.
Airfield Lighting
Airfield lighting systems extend an airport's usefulness into periods of darkness and/or poor visibility. A variety of lighting systems are installed at the airport for this purpose. These lighting systems, categorized by function, are summarized below.
Identification Lighting: The location of an airport at night is universally indicated by a rotating beacon. A rotating beacon projects two beams of light, one white and one green, 180 degrees apart. The rotating beacon at the airport is located on top of a steel tower on the south side of the airport next to the airport terminal building.
Runway and Taxiway Lighting: Runway and taxiway lighting utilizes light fixtures placed near the pavement edge to define the lateral limits of the pavement. This lighting is essential for safe operations at night and during times of low visibility to ensure safe and efficient access to and from the runway and aircraft parking areas. Runway 9-27 is equipped with low/medium/high intensity runway lighting, Taxiway A and D are equipped with medium intensity taxiway lighting (MITL) while Taxiway B and C are equipped with reflectors.
Threshold lighting and Runway End Identifier Lights (REIL's) identifies each runway end. Threshold lights have a special lens which is red on one-half of the lens and green on the other half of the lens. These lights are located at the runway end. The red portion of the light is visible from the runway to aid pilots in determining the runway end when departing. The green portion of the light is visible to pilots on approach to quickly identify the runway end for landing.
Runway End Identifier Lights (REIL's) consists of a pair of synchronized flashing lights located laterally on each side of the runway threshold.
They are effective for:
• Identification of a runway surrounded by a preponderance of other lighting.
• Identification of a runway which lacks contrast with surrounding terrain.
• Identification of a runway during reduced visibility.
Pilot Controlled Lighting (PCL): Carson City Airport's Runway 9-27, Taxiways A & D, REIL's, and PAPI's are controlled by PCL during nighttime hours via radio (Frequency 123.0). Carson City Airport's PCL system has three settings:
Medium intensity: Five clicks within five seconds
All lights operated by PCL will automatically time out after 15 minutes.
Automated Weather Observation System (AWOS)
Carson City Airport is equipped with an Automated Weather Observation System (AWOS-III P/T).
The AWOS-III P/T provides automated aviation weather observations 24 hours a day, including METAR's. The system updates weather observations every minute, continuously reporting significant weather changes as they occur. The AWOS system reports cloud ceiling, cloud type, sky condition, visibility, temperature, dew point, wind direction and speed, wind gust, variable wind direction, altimeter setting (barometric pressure), density altitude (airfield elevation corrected for temperature), and thunderstorm/lighting detection. The AWOS frequency is 119.925 and the phone access number is 775-884-4708.
The National Weather Service provides Terminal Area Forecasts (TAF) for the Carson City Airport.
Conditions Not Monitored 
The conditions of the pavement are not monitored outside of regular business hours at the airport:
1700 – 0800 hours Monday – Friday
Not monitored on Saturday and Sunday