Airport Authority & Staff
Corey Jenkins
Airport Manager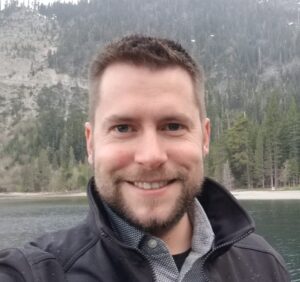 Corey Jenkins is the Airport Manager as of August 4th, 2021.  Corey has a degree in Aviation Management from Louisiana Tech University and is also a Private Pilot.  Corey has a broad background with management experience in Information Technology, Helicopter Line Services, Airport Operations and as an entrepreneur.  As a member of AAAE he has also received his ACE certification.
Rick Lee
Airport Maintenance and Operations Technician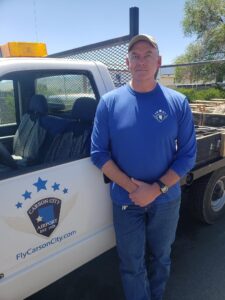 Rick Lee is the Airport Maintenance and Operations Technician and has served in this capacity since October 2020. Rick has a broad skill set that includes vehicle/equipment maintenance, and specialized airport technical knowledge. Rick's primary responsibilities include maintaining landside and airside facilities and airport equipment. Rick comes to the Carson City Airport from the Reno-Tahoe International Airport where he received specialized training in airport snow removal and airfield maintenance. Rick is a Carson City native and retired from the Nevada National Guard.
Paul Hamilton
Member - Fixed Base Operator Representative
Paul Hamilton was appointed to the Carson City Airport Authority in April 2019. In 1978, Mr. Hamilton was issued a US Patent # 416406 for a variable camber inflatable hang gliding wing he developed, built and flew in college. Mr. Hamilton graduated from the University of Nevada, Reno with a Bachelor of Science in Mechanical Engineering specializing in Aeronautics. Mr. Hamilton went on to work as an Engineer in Design, Analysis, and Flight Testing for the Lear Fan business turboprop/jet. Mr. Hamilton holds the Federal Aviation Administration's (FAA) highest ratings possible for Weight-Shift Control aircraft with a Private Pilot rating, a Certified Flight Instructor (CFI) rating, and is an FAA Designated Pilot Examiner (DPE).  Mr. Hamilton wrote the FAA "Weight-Shift Control Flying Handbook" 8083-5 which is used as the basis for all weight-shift training throughout the world. Mr. Hamilton has accumulated more than 2,000 flying hours and is a Master Rated Hang Glider Pilot and Advanced Rated Paraglider Pilot with the USHPA, United States Hang Gliding and Paragliding Association.
Tim Puliz
Chair - Pilot Representative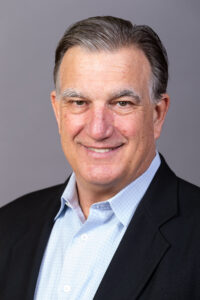 Tim Puliz is married to Vicki Puliz. They have a blended family of 7 children and 10 grandchildren. Tim is a retired independent family businessman serving both northern and southern Nevada for 41 years. Tim guided a family of companies that include: Puliz Moving & Storage, Puliz Records Management Service, and ATAAP Co., LLC, a Real Estate Development company. Tim has volunteered his time and talents to a variety of organizations including Sparks YMCA Board of Directors, Wells Fargo Nevada Community Advisory Board, Experimental Aircraft Association (EAA) Young Eagles program, Angel Flight West, and a past Commander and member the Carson City Sheriff's Aero Squadron. Tim has participated in dozens of Rotary International projects worldwide. Tim is a private pilot and bases his Twin Comanche in the Jet Ranch Hangers on the Carson City Airport. Tim has accumulated 1,950 hours of flight time and has a multi-engine and instrument rating.
Karl Hutter
Member - Manufacturer's Representative

 KARL HUTTER – CLICK BOND PRESIDENT AND CHIEF EXECUTIVE OFFICER In 2015, Karl Hutter became the President and Chief Executive Officer of Click Bond, Inc.  Prior to becoming CEO, from 2013-2015, Karl served as the Treasurer, Chief Operating Officer, and Chief Financial Officer of the company.  From 2008 – 2013, Karl served as Vice President of Sales and Marketing, where he focused on building Click Bond's reputation as a solutions partner, enabling Click Bond's technology on the F-35 program and numerous other key platforms across the commercial and defense aerospace sector.
Prior to leading the sales department, Karl spearheaded the company's business development and applications engineering efforts across the Asia Pacific region, creating a strong foundation for global growth, particularly in Japan, China, and Australia.  Karl holds Bachelor of Science degrees in Systems Engineering from the University of Pennsylvania School of Engineering and Applied Science and in Entrepreneurial Management and Operations management from the Wharton School.
Karl is a certified Airline Transport Pilot and is an active advocate for the aerospace industry.  He serves on the Aerospace Industries Association (AIA) Board of Governors Executive Committee and Civil Aviation Leadership Council, the National Association of Manufacturers (NAM) Board of Directors, the Aerospace Locknut Manufacturers Association (ALMA) Board of Directors, and the General Aviation Manufacturers Association (GAMA) Board of Directors. He is a past Chairman of the Carson City Nevada Airport Authority and is a member of the Board of Trustees of the Cardigan Mountain School.
Michael Golden
Member - Fixed Based Operator Representative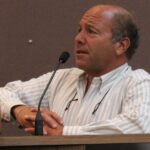 Michael Golden is the owner and operator of Mountain West Aviation. Mr. Golden was the Board Chair from July 2019 through June 2023. He began his tenure on the Airport Authority Board in 2018 as a Fixed Base Operator representative. Mr. Golden is a licensed private pilot and is an owner of fixed base operations in South Lake Tahoe Airport and Elko Regional Airport.
Jon Rogers
Treasurer - Manufacturer's Representative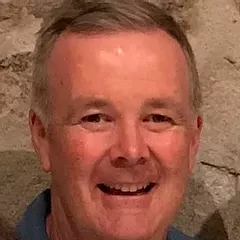 Jon Rogers has served on the Carson City Airport Authority Board since 2018 as a manufacturer representative. Mr. Rogers has a long career in manufacturing which includes owning his own company, Lock-N-Lift, the inventor and world's foremost expert for dovetail style steel plate lifting tools. Mr. Rogers was appointed Treasurer of the Carson City Airport Authority in July 2019. Mr. Rogers is active in the service of the community serving on the Brewery Arts Board of Directors.
Harlow Norvell
Vice Chair - Citizen At Large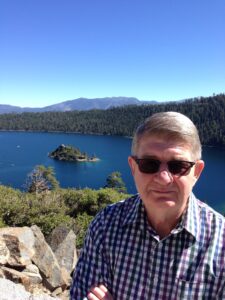 Harlow was appointed to the Carson City Airport Authority in October 2021 and has served two previous terms on the Board.  He moved to Carson City with his family in 1959, attended school locally, and graduated from the University of Nevada at Reno with a Bachelor of Science Degree in Business Administration.  Harlow also participated in ROTC at UNR and served 23 years on active duty as an Army Aviator.  After retirement in 1998, he spent the next 22 years as a corporate pilot, flying several different models of business jets.  Harlow makes his home in Carson City with his wife Cindy and their three grown children and nine grand children.
Curtis Horton
Member - Government Representative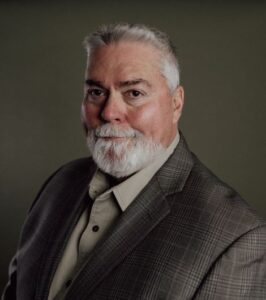 Curtis Horton is a Longtime Carson City resident; he has lived and worked in this community for 50  years.
Curtis worked in the city's public works department for over 35 years, starting as a water crewman. He moved up through the ranks to Deputy Public Works Director before retiring in 2020.
Curtis has received many accolades over the years. He has also been credited with helping build strong relationships within different city departments as well as outside agencies. He has a strong work ethic and take-charge attitude, which has benefitted him throughout his career.
Curtis enjoyed raising his family here. He and his wife Joy have three grown children and five grandchildren. Curtis enjoys spending time with his family, getting out on our area lakes, and exploring Nevada backroads. He also enjoys working in his shop and passing on his skills and knowledge to the younger family members.


Armstrong Consultants has served as the Carson City Airport Authority's consulting engineering firm since January 2019. Armstrong Consultants has over 45 years of airport-exclusive knowledge of FAA and NDOT processes, with 29 of those years servicing Nevada communities. Armstrong's vision is to be the leading, most respected aviation planning, engineering, and construction administration firm in Nevada. Armstrong's primary objective is to provide solutions by collaborating with airport sponsors to develop successful project outcomes. Our staff of nearly 50 people, is comprised of airport planners, engineers, resident inspectors, and support personnel who have dedicated their careers to improving airports. Established in 1973, and serving the airport community exclusively for the last 30 years, our firm has completed over 1,200 projects at more than 130 different airports.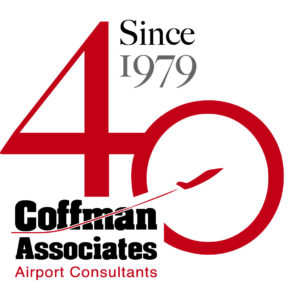 Coffman Associates is a specialized airport planning firm comprised of 25 professional and technical staff members whose work is focused exclusively on airport planning and associated environmental and noise/land use studies. Coffman Associates has earned a reputation for excellence since its founding in 1979. Awards include the American Association of Airport Executives Corporate Cup of Excellence Award and the FAA Partnership Award. During the past 40 years, Coffman Associates completed more than 1,000 planning assignments, including more than 550 airport mater plans, 150 airport noise compatibility studies and more than 250 airport environmental studies. In 2001, Coffman Associates completed the Carson City Airport Master Plan. In 2017, Coffman Associates was awarded the contract to complete a new airport master plan study for the Carson City Airport. In July 2019, the Carson City Airport Authority approved the draft master plan for submittal to the FAA for review.
Airport History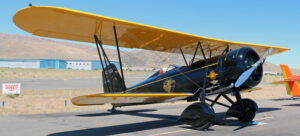 The Carson City Airport was initially established in 1928 on 76 acres of land provided to Carson City by 3 prominent local families. The Airport expanded significantly in the 1940s and 50s to allow for an east-west runway taking advantage of the prevailing westerly Sierra Nevada winds. This acreage comprises the approximate footprint of the main runway. Many areas were dirt and services on the field were limited.  In the 1970's, Carson City designated land north of the main runway as the Carson City Industrial Airport and offered parcels for lease in order to attract clean, high quality manufacturers. These parcels were eventually sold to the tenants, and the area continues to evolve as a thriving manufacturing / industrial hub.
In 1989, the Airport Authority Act for Carson City was passed by the Nevada State Legislature. This Act created the current governance structure for the Airport. The Carson City Board of Supervisors appoints the members of the Carson City Airport Authority Board who in turn operate the Airport, establish rules for its safe use, financial stability and provide policy guidance to the Airport Manager who executes policy. Pursuant to the Act, the Carson City Airport Authority is comprised of seven members. Three members representing the general public, of which one is a pilot and one is a City Official, two members that represent manufacturers within a 3-mile radius of the Airport, and two members who are Fixed Base Operators.
In 1990, the Airport Authority entered into a cooperative agreement with the City of Carson City to effectuate the transfer of all operations to the Airport Authority and to provide a mechanism for exchange of resources. This agreement expires in May 2020, and is currently being re-drafted to continue the successful cooperation between the City and the Airport Authority.
In 2001, the Federal Aviation Administration (FAA) accepted the Authority's first Master Plan for airport development and agreed to provide 93.75% of the funding of the Airport Capital Improvement Program under which the Airport Authority contributed a 6.25% local grant match.  The Authority accomplished the goals of that Master Plan with runway and taxiway improvements, new hangar construction and orderly development of the Airport.  The Authority is presently developing an exciting new future for the Airport via a state-of-the-art Master Plan that will take the Airport into the next decade and beyond.  The new Master Plan takes into consideration the many new developments in aviation, GPS, avionics, autonomous systems, and the economic development opportunities for the Airport and the larger community served by the Airport.
In 2019, the University of Nevada, Reno, Center for Economic Development presented the report, "Estimation of Economic Impacts of Operation and Construction Activities of the Carson City Airport on the Economy of Carson City (Impact Study)". The Impact Study determined that the Carson City Airport contributes $65M annually to the Carson City community and generating 490 jobs in the community.  The Report underscores the progress to date and the solid base for growth.